Join Us for a Special
Peel & Clinical Skincare Event
Saturday, December 17, 2011
Company Address

Company Phone

Company Website

Company Email
IMAGE SKINCARE: AS SEEN ON THE REAL HOUSEWIVES OF BEVERLY HILLS!!!
What
Learn the difference: Image Skincare vs. Other lines carried in Department Stores, Drug Stores & Salons
Live Facial & Peel Demos
***Call our Concierge if you want to be a model, we are looking for at least 3***
EXFOLIATING: Are you doing too much or not enough? Are you using the right products? What's better, mechanical or chemical?

Live Product Demos: Are you applying your eye cream & moisturizers correctly? Are you wasting too much product?

Ingredients: Which ingredients are the most effective for your concerns? Demystify the myths behind ingredients and learn how to read product labels correctly
.....AND MUCH MORE..... Don't Miss this Fun & Informative Event!
Specials

Buy a Series of 3 Peels & Get 1 Peel Free

PLUS

Free Pre-Peel Kit ($30 Value)
Buy a Series of 5 Peels & Get 2 Free Face Microdermabrasion Sessions ($180 Value) with

PLUS

Free Pre-Peel Kit ($30 Value)
Buy a Series of 3 Facials & Get 1 Free Facial
Buy a Series of 6 Facials & Get 1 Free Face Microdermabrasion Session ($90 Value)
20% Off Massages, Facials & Peels (50 min plus) booked day of the event
Complimentary Chair Massages
Free Gifts for those who RSVP
Gift Card Raffle for those who RSVP
Free Skin Analysis & Consultations with Image Certified Master Estheticians
Free Samples with $50+ Product Purchase (after discounts)
Save 5% on any 1 Image Skincare Product
Save 10%

on any 2 Image Skincare Products

Save 15% on any 3 Image Skincare Products
Save 20% on any 4 or more Image Skincare Products
.....AND MUCH MORE..... Don't Miss this Fun & Informative Event!
Only $10 to RSVP. This amount will be applied toward your product purchase. The Event is Open to the public, but RSVP'ing will get you more perks! Call our concierge to RSVP 732.536.8500.

Weekly Specials

Winter savings from Valina Salon & Day Spa
Today & Tomorrow Only!
Call Now to Book 732.536.8500
Valina News
It is one of our main goals to bring to you, our loyal guest, beauty that is one of a kind and on the cutting edge of our industry. This week we are so happy and honored to introduce to you two revolutionary concepts in Hair Artistry: The Deva Curl System & The John Sahag Hair Cut now exclusively available at Valina Salon & Day Spa.

We also have some hot winter deals for you to take advantage of, from the unreal Spa Combo deal to $25 Blowouts and everything in between, we've got all your beauty needs covered.



Some things to look for at Valina in the next coming weeks:



v Designer sunglasses & frames at way below designer prices
v Bi-monthly

hors d'oeuvres

& drinks Q & A with Dr. Pericles Lantz; world renowed expert on stem cell facial rejuvenation and facial injections
v Online Product & Gift Card Pavilion so you can purchase all your favorite products from your phone or computer
v Cosmeceutical Skin Care event with live demos and complimentary skin care consultations
and much more....
50% off Haircuts (excluding the Sahag & Diva cuts) with any Color


and/or Highlight Service
Spa Combo Package
For only $100 receive a 50 min Swedish Massage AND a 50 min Classic Facial
Mani/Pedi Deals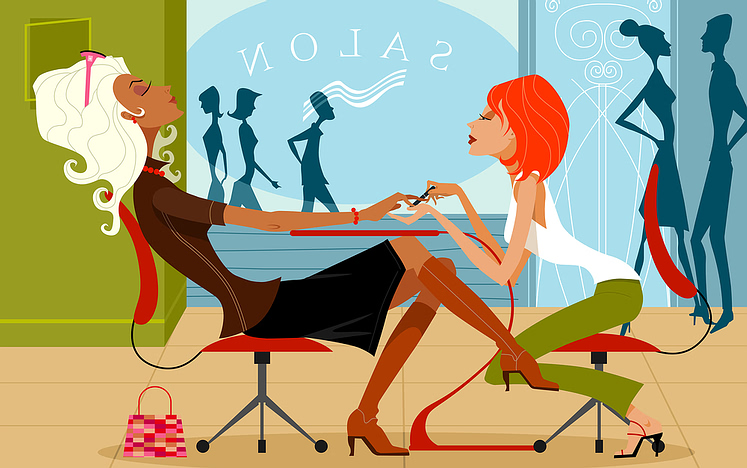 Complimentary Manicure w/any Spa Specialty Pedicure
OR
$10 Manicure when combined w/Valina Signature Pedicure
Waxing Special

This week take 15% off any Waxing Service (inc Brazilian)

Tired of Blow Drying your own Hair??

This week Blowouts are only $25
OR
FREE when you pair it w/any regular price Spa Service of 50 min or more

Best Gift Card Promo Around

Give the Gift of Beauty and Relaxation that you will be thanked for the entire year & Get a $20 Gift Card for every $100 Gift Card Purchase
*Free Delivery for phone or internet orders. Gift cards are not refundable.

Calling all Curls (and Waves)!
Now available for an Introductory Price of only $60
(regularly $75+)
The Deva haircutting technique is a revolutionary method of
cutting curly and wavy hair. The hair is cut dry, simply because
we wear our hair dry and not wet. In cutting the hair in it's natural
form, it allows us to cut curl by curl. This unique innovation allows
our stylists to sculpt each client's hair according to their individual
curl, look and style. Along with your customized cut, you'll also
receive a self curl lesson that takes you beyond the salon!
Deva Curl
Home Care Products are now available for purchase as well--


At an Introductory Discount of 15% Off ALL Homecare Products!
Deva is offered at Valina Salon & Day Spa by Master Stylists
Stephanie & Patricia. Their hours are:

Stephanie: Everyday (except Monday) Open to Close
Patricia: Sunday & Tuesday 10 AM - Close

Call or come in today for a complimentary consultation or to
schedule your Deva Curl haircut.
Introducing The John Sahag Dry Haircut
Nicole, one of Valina's top stylists and colorists,proudly brings The John Sahag Dry Haircut to Valina Salon & Day Spa. This one of a kind technique is a ninety-minute precision haircut that will be one of the easiest to care for cuts you will ever have!
Snips are applied in a manner that might appear shockingly random, but in fact precisely follow the natural direction and flow of the hair, tapering in at the ends. The result is a low-maintenance, movable, high-volume style that requires minimal upkeep between visits (your haircut visits can extend up to 12-16 weeks w/The Sahag Cut!).
Sahag devotees include Sarah Jessica Parker, Brad Pitt, Kirsten Dunst, Jennifer Aniston, and Demi Moore among many others. You are sure to become a devotee once you try this revolutionary cut.
Now available for an Introductory Price of only $80 (regularly $100)

Nicole's hours are:
Wednesday 2:30 PM - Close
Friday 9:30 AM - 2 PM
Every other Saturday & Sunday 9 AM - 5 PM
Call or come in for you complimentary consultation or to schedule your
Sahag Haircut
.